Mounjaro (Tirzepatide) for Weight Loss
At Slim Weight Loss Clinic, our specialists offer a variety of prescription weight loss medications to help our patients manage their appetite and shed the excess pounds that have been holding them back for so long. However, out of all the medications we offer, we're really excited to introduce Mounjaro, a revolutionary and promising weight-loss medication that has been shown to double the amount of weight loss achieved with other treatments such as Wegovy.
Of course, like with any new medication, you may want to learn more about Mounjaro before you begin considering the medicine as a weight loss treatment. In this article, we'll discuss how Mounjaro works for weight loss, what makes it more effective than other weight loss treatments, and provide an overview of what you'll need to know before deciding to use the medication to help you reach your weight loss goals.
What Is Mounjaro?
Mounjaro is an FDA-approved injectable medication used with diet and exercise to help adults with Type 2 diabetes decrease and manage their blood sugar levels. However, due to the promising weight loss patients experience while taking Mounjaro, the medication can also work as an effective off-label treatment for weight management.
Mechanism of Action
Mounjaro contains, Tirzepatide, a dual GIP/GLP-1 receptor agonist peptide molecule used to activate both the GIP and GLP receptors, which stimulate the release of the GIP and GLP hormones responsible for glycemic control and insulin secretion.
Once released, both the GLP and GIP receptor agonists send signals to the brain that can help reduce your appetite so you can feel more satisfied after a meal, allowing you to reduce your food consumption. In addition, the GLP hormone also slows gastric emptying, causing your stomach to digest food more slowly so you can feel full for a longer period of time, allowing you to cut back on the amount of food you eat.
As this occurs, the GIP hormone also works to improve insulin sensitivity, helping to regulate the amount of insulin needed to lower blood sugar, which also stimulates weight loss. Once GIP and GLP are released in the pancreas, the two hormones work together to increase insulin response and decrease glucagon secretion, leading to increased energy expenditure, which helps you to burn more calories during physical activity, thus allowing you to lose more weight at a faster rate.
About Results of the Drug's Clinical Trials: How Good Is Mounjaro for Weight Loss?
During clinical trials, patients with a body mass index (BMI) of 27-30 or more saw an average weight loss of 16% after 72 weeks of 5 mg weekly doses with Mounjaro. Adults who took 10 mg doses of Mounjaro also experienced an average weight loss of 21.4% during the same 72-week timeframe. Patients that were administered the maximum 15 mg dosage of Mounjaro also lost 22.5% of their original body weight after 72 weeks of treatment.
How Do Mounjaro and Wegovy Compare for Weight Loss?
When comparing the weight loss results of Mounjaro and Wegovy, it's best to view the effectiveness of their active ingredients. Wegovy contains Semaglutide, which only utilizes the GLP-1 receptor agonist, whereas Mounjaro, which uses Tirzepatide as its active ingredient, makes use of both GIP and GLP-1 receptor agonists, doubling the amount of weight loss achieved in a shorter amount of time. In fact, patients that were administered Mounjaro were able to reach their target weight four weeks sooner than those taking semaglutide.
During a randomized study, participants taking Mounjaro reduced their overall weight by an average of 11.5 kg and lost 9.7 kg of fat after 28 weeks of treatment, whereas patients who took semaglutide reduced their body weight by 6.9 kg and lost 5.9 kg of fat. In other various studies, patients that took Mounjaro achieved 21 to 22.5% in weight loss; compared to those who only lost 6 to 15% on Wegovy.
Is This Medication Right for Me?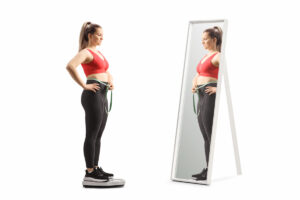 That will depend on your medical history. Typically, Mounjaro is a viable treatment for Type 2 diabetes if you have had issues managing your blood sugar with other diabetes medications such as metformin or SGLT2 and D-PP4 inhibitors. In addition, due to its impact on the digestive system and glucose levels, Mounjaro can also work as an effective weight-loss drug for overweight adults who are struggling with weight management or weight-related issues such as obesity. However, Mounjaro is not approved as a treatment for people with Type 1 diabetes and may not work as a safe treatment for adults with more serious health conditions, which we will discuss later in this article.
How To Use Mounjaro
Mounjaro is typically administered through subcutaneous injections once every week under the skin of your stomach, thighs, or on the back of your upper arms. Once you've chosen a day for your injection, you will need to administer the treatment on the same day every week for consistency throughout the duration of treatment.
Your Mounjaro treatment will come packaged in single-dose pre-filled injector pens, which you must store in the refrigerator at temperatures between 36°F and 46° F. When you're ready for an injection, remove a pen from the refrigerator and check the label to ensure the pen isn't damaged or the medication hasn't expired. If the pen is damaged or outdated, dispose of it immediately and use a new one. Once a pen is removed from the refrigerator, it can be stored at room temperature for 21 days before it is no longer safe for use.
You will also need to run a quick check on the medicine itself. If the liquid inside the pen is frozen, cloudy, colorless, slightly yellow, or contains particles, you should also dispose of the pen, as the medication will most likely be compromised. Once you confirm the medicine is safe, you can prepare for the injection following these next steps:
Wash your hands
Pull the base cap off the clear base of the pen
Place the clear base flat against the area where you plan to inject
Unlock the pen by turning the lock ring near the top of the pen under the injection button
Press and hold the purple injection button for up to 10 seconds.
Listen for two clicks. Once you hear the first click, that means the injection has started. Shortly after, you should hear a second click, signaling that the injection has been completed.
In certain instances, you may need assistance administering the medicine, depending on which area you choose for the injection site, such as the upper arm. You will also need to rotate the areas where you inject the drug regularly to avoid any swelling, redness, or itching at the injection site.
Other injectable medications, such as insulin, can also be injected in the same area as Mounjaro. However, you should never inject the medicines at the same time or in the same place. As a precaution, always allow a moment between shots and inject the medications at sites that are at least a few inches apart to avoid adverse reactions.
How Much Weight Can You Lose in a Month on Mounjaro?
Since every person has a unique physiology that will have a different response to the medication, it can be difficult to determine the exact amount of weight loss that can be achieved with Mounjaro after only a month of treatment. In addition, the amount of weight loss you experience will heavily depend on the dosage level of the medicine and the type of dietary regimen prescribed by your physician. In most cases, the weight loss results will usually vary depending on the patient and the nature of their weight-related condition.
What Are the Side Effects of Mounjaro?
Typically, Mounjaro is a safe and effective treatment for most Type 2 diabetics and adults struggling with weight-related diseases such as obesity. However, due to its gastrointestinal tract, the medication can also cause side effects that may become detrimental to your health, depending on your medical history. The most common side effects reported by patients after taking Mounjaro include:
Diarrhea
Nausea
Constipation
Vomiting
Abdominal pain
Indigestion
Changes in vision
For most patients, the side effects associated with Mounjaro usually subside over time as their body adjusts to treatment. Unfortunately, in certain patients, these side effects can either cause or exacerbate other serious health conditions such as:
Kidney complications
Pancreatitis
Gallbladder disease
Intestinal disorders
Diabetic retinopathy
Medullary thyroid cancer
If you already suffer from these health issues, you may need to avoid using Mounjaro as a weight loss treatment. Patients who may be allergic or hypersensitive to the active ingredient, Tirzepatide, should not use the medication to avoid allergic reactions such as rash, severe dizziness, and trouble breathing. Adults with a history of multiple endocrine neoplasia type 2 (MEN2) should also avoid taking Mounjaro, as the medication can cause their condition to worsen.
Since Mounjaro can lower blood sugar levels, the drug may also cause hypoglycemia (unusually low blood sugar) in some patients, especially in adults with Type 2 diabetes. Make sure to notify your physician if you experience blurred vision, anxiety, or slurred speech while taking Mounjaro, as these are common symptoms of hypoglycemia.
Taking other medicines to treat diabetes, such as insulin, in conjunction with your Mounjaro injections, can also increase the risk of hypoglycemia. You will need to discuss any diabetic medications that you take with your healthcare provider, so they can determine the best way to incorporate these medicines with your Mounjaro treatment and help you effectively manage your blood sugar levels.
When you're utilizing innovative weight loss treatments like Mounjaro, it is always important to have an experienced team of healthcare professionals by your side to monitor your progress and make sure that you remain healthy as you undergo treatment. And that's what you'll get when you work with the friendly and knowledgeable staff at the Slim Weight Loss Clinic. With our seasoned team of weight loss specialists, you can feel comfortable and confident in your weight loss journey as our experts create a customized weight loss treatment plan that can effectively help you improve your weight management and shed excess body fat.
The medical staff at the Slim Weight Loss Clinic combine a variety of weight loss medications such as Wegovy and Mounjaro with individually tailored exercise and diet plans into a weight loss program proven to help overweight or obese adults reach their weight loss goals and improve their health. Contact us at 1-866-755-0594 and schedule a consultation with one of our physicians to find out how our treatments can help you eliminate your excess weight and achieve a healthier physique today.
What should I do if I miss a dose?
If you miss a dose, inject the medication as soon as you remember, as long as it is within four days of the missed dose. If it has been more than four days, skip the missed dose and take the next dose as planned to resume your regular schedule.
What should I do in case of an overdose?
If you accidentally overdose, you should immediately call your local emergency services at 911.
How long does it take for Mounjaro to start working?
In many cases, Mounjaro will begin to lower your blood sugar levels as soon as you start treatment. However, it may take 8 to 12 weeks for you to notice visible weight loss results.
Does Mounjaro cause fatigue?
According to the manufacturer, Eli Lilly, fatigue is typically not a common side effect associated with Mounjaro. However, some patients who take Mounjaro have reported experiencing tiredness and low energy levels during treatment.
Does the Mounjaro injection hurt?
Yes, it can. Since Mounjaro is subcutaneously injected under the skin, there is a likely chance that you may experience some pain at the injection site.
Will Mounjaro get approved for weight loss?
Yes, it will. On October 6, 2022, the FDA granted a Fast Track designation to Mounjaro as a treatment for adults with obesity and other weight-related conditions. As of now, the drug is currently expected to be approved for weight loss sometime in 2023.
Renew Vitality has excellent weight-loss programs that I was able to stick with consistently. Their staff are super friendly and were really helpful in showing me how to work the program. After only a few weeks of treatment, I've already lost a significant amount of weight.
I love the folks at Renew Vitality! The staff was so nice and seemed to know a lot about weight- loss. They really helped me to change my life! Thanks to their treatment plans, I could eat less and lose more weight! Now that I eat healthier, I look and feel much better than I have in years!
The treatment plans at Renew Vitality have totally changed my life! I have lost a considerable amount of weight over these last few months. Now, I have a new look and am more active with my family and friends!
I've lost so much weight after working with the staff at Renew Vitality. They definitely know what they're doing when dealing with weight loss. Their staff was very attentive to my treatment needs!