Dr. Henry J. Van Pala, MD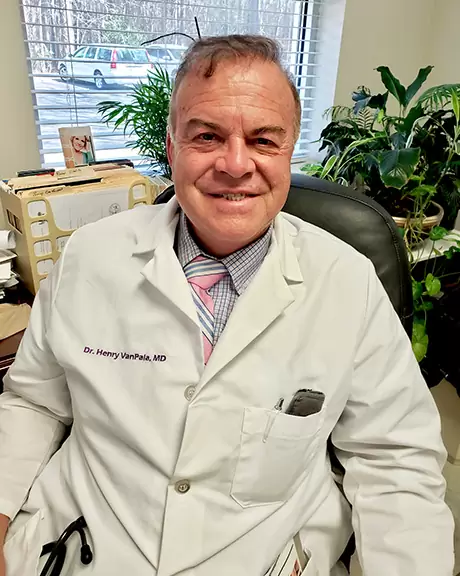 Dr. Henry J. Van Pala is a board-certified Internal Medicine physician and gastroenterologist currently serving at the Slim Weight Loss Clinic. Before attending medical school, Dr. Van Pala obtained a degree in Pharmacy from St. John's University School of Pharmacy in New York, New York, in 1974. He then started his medical career as a registered pharmacist for two years, working at a compounding pharmacy, before attending Michigan State College of Human Medicine to continue his education. After graduating in 1980, Dr. Van Pala trained for the next five years in the Yale University School of Medicine residency and fellowship program before starting his practice.
Decades later, Dr. Van Pala returned to take the challenging 2010 Internal Medicine Maintenance of Certification Exam and the rigorous Full Certification Exam in Gastroenterology in 2013, passing both with exceptional scores for a medical practitioner licensed to practice medicine over 30 years ago. During that time, Dr. Van Pala spent an additional year in Advanced Internal Medicine and Gastroenterology training at Georgia Regents University (formerly known as Medical College of Georgia) in Augusta, Georgia. While attending Georgia Regents University, Dr. Van Pala trained to master the most modern medical technologies and treatment systems. His comprehensive training includes gastroenterology, cardiology, pulmonology, infectious disease, endocrinology, nephrology, rheumatology, general internal medicine, critical care medicine, and geriatrics. Since then, Dr. Van Pala has maintained his expertise by completing 2,500 hours in Category 1 Continuing Medical Education as he practiced medicine.
As the field of anti-aging and regenerative medicine began to emerge, Dr. Van Pala once again returned to academia to complete a challenging restorative medicine course and became a fellow candidate among an elite group of physicians in a program entitled A4M, certified by the American Academy of Anti-Aging and Regenerative Medicine.
Thanks to his expertise and dedication to continued education, Dr. Van Pala is an expert in various medical fields involving men's and women's wellness, such as hormonal therapy, nutrition balance assistance, and weight loss solutions. Uniquely qualified to diagnose and care for patients in an integrative manner, Dr. Van Pala now utilizes modern treatments to help patients lose weight and become hormonally balanced, so they can restore their stamina and sexual vitality, enabling them to live more rewarding and satisfying lives.
Dr. Van Pala's philosophy is that to "understand and treat the patient as a whole, one must not only innately understand the complexities of modern medicine, but also address deficiencies in the individual and diagnose and correct the underlying problem."
Dr. Henry J. Van Pala Credentials